Don't let the heat and the humidity that goes with it bring you down. Enjoy the summer weather the best you can.
When it comes to summer, which is the first thing that comes to your mind? A relaxing holiday, craving for ice-creams, or using a full-blown Air-conditioner all day to beat the heat and humidity?
We all have different memories. Right? But the common one is how to make summers more "cooler"? We all want the temperature inside the home to be cool enough to get through the hottest days in summer. With the peak of summer upon us, maintenance of the flooring in the home becomes even more essential.
Especially when the temperature rises above 35°C, then we start figuring out how to make our home cooler at the optimal temperature while using the least amount of energy possible.
But do you know humid areas can have a negative impact on the floors?
Yes, that's right. So, it is advisable to pick the right floor tiles to make a big difference in your comfort. But which flooring option can improve your indoor air quality and at the same time, are affordable and simple to maintain? Tile flooring.
Why Should You Use Tile Flooring?
Do we often wonder why tile flooring is a buzzword these days? The answer is simple; it's because of its endless benefits.
Easy to maintain
Cheaper than traditional materials, like natural stone or hardwood flooring
Available in different types as per your need; anti-skid, germ-free and scratch-resistant, etc.
But these benefits are the tip of the iceberg when it comes to all the advantages of tile flooring in your home. If you're interested in knowing more, keep reading.
Tiles Keep It Cool
Porcelain and ceramic tiles are known for their "COOLER" nature. Thus, making them a preferred choice for flooring houses in hot and humid climates.
Not only this, but because of their high thermal emittance, they reflect back maximum heat which effectively brings the temperature of the interiors down by ↓7 to 8 degrees. That means you can walk barefoot on the tiles without feeling the heat.
What Types of Tile Flooring Are Best for Hot and Humid Climates?
Now you must have got an idea why tile flooring is compatible with a hot and humid climate. But how do you choose the right tile flooring that matches the look you want and with your climate in mind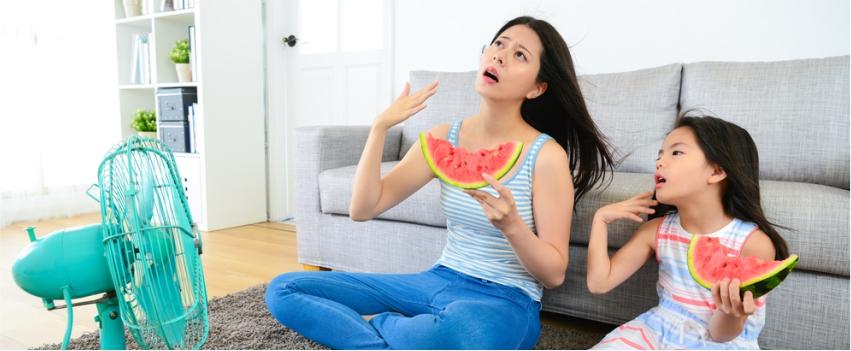 Here are the best types of flooring for hot and humid climates.
1. Concrete Flooring
Concrete flooring is fast gaining popularity due to its low maintenance and its ability to withstand staining on its surface, making it a desirable choice for many homeowners. Additionally, concrete by nature stays cool, which is a big plus in warmer climates.
Moreover, it can bring down the chances of damage or allergic reactions, as well as give longevity to the flooring.
Remember: If sealed properly, concrete absorbs very little moisture, thus inhibiting the growth of mold or mildew.
2. Rubber Flooring
We all know rubber flooring as an ideal fit for hospitals or cafeterias. But surprisingly if you find it in the right finish and texture, it can be a great option for use in other spaces too. This type of flooring is easy to clean and maintain as it does not absorb much moisture. Especially in wet zones, this can help ensure that issues related to moisture absorption are out of the picture.
Remember: It is also easy to install and often less expensive as compared to other traditional flooring options.
3. Sheet Vinyl Flooring
Besides being a good option for humid climates, sheet vinyl flooring is also great for waterproof flooring. Sheet vinyl is large and continuous which makes it have fewer seams. This very property makes water absorption difficult. This adds more to its longevity. Sheet vinyl offers a great appearance as you will get options in natural stone, unique patterns, and even geometric motifs.
Remember: Air quality standards of this flooring are excellent. Vinyl is low-emission and less likely to keep allergens than many natural types of floors.
4. Porcelain Tiles
Porcelain tile is a type of ceramic tile, with the added advantage of being much cooler and more durable. Since it withstands humidity well and has a low water absorption rate of 0.5%, porcelain tiles are a workable option for a variety of spaces. They are strong and can be maintained for a long time in the course of daily use.
Wrapping up
Climate plays an important role when it comes to choosing the material for your flooring. So, if you are living in a cold and snowy climate, you would be better off with a thermal or warm flooring that regulates the temperature of the surface of the flooring.
Likewise, for hot and humid regions, choose flooring options that can withstand exposure to moisture and also keep the surface a little cooler. Considering most Indian states do experience humid temperatures, any of the above options will work like a charm, whether in a residential or commercial space. Go ahead, beat the summer heat with some cool flooring choices!
Source: https://www.orientbell.com/
---
Still, confused about what kind of tiles will be the best for your home? No worries, CONTACT US NOW and check out our complete range of tile flooring. 
Virginia Stone Design offers the largest variety of quality natural stone slabs used for residential and commercial projects. If you have any questions about our current inventory, or would like to learn more about our company, visit our HOME PAGE for more information!

Creating a hearth is a great way to protect your floors and add decoration to your home!
ABOUT US
Virginia Stone design specializes in custom fabrication and installation of natural stone.
Outdoor and indoor Kitchens
Bathrooms | Wet Bars
BBQ grills
Fireplace hearths
Backsplash
Sinks
Countertops
Have a Project in mind? Just send us your design and specifications by e-mail or click below to get a quote and talk with us.